No one knows what Jesus would do to feed today's poor, hungry Americans — but Fox News host Bill O'Reilly is pretty sure the Christian savior wouldn't be "down with" giving them food stamps because it's "their fault."
After Rep. Jim McDermott (D-WA) recently said that Jesus "didn't charge food stamps" in response to Republican efforts to cut the Supplemental Nutrition Assistance Program (SNAP) and Pope Francis called income inequality immoral, O'Reilly tried to set the record straight with a segment about the "nanny state" on Tuesday.
The Fox News host acknowledged that Christ would have fed the poor, but objected to the idea that he would have "hurt" richer Americans to help feed them.
(
more
Collapse
)
Video of this exchange is at the
source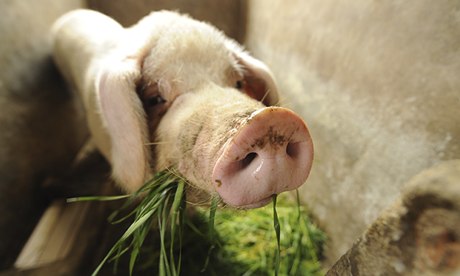 Britain has won the right to export pig semen to China in a deal worth £45m a year.
Owen Paterson, the environment secretary, who is accompanying David Cameron on his trip to China, has also embarked on negotiations to export pigs' trotters – a local delicacy – to China.
Under the deal with China, the "porcine semen" can be flown to the country in frozen and fresh form. Pigs will not be flying but their seed will take to the air.
A No 10 spokesperson said: "We're doing all we can to ensure that businesses up and down the country reap the rewards from our relationship with China. And that includes our pig farmers. This new deal to export pig semen will be worth £45m to UK firms and means Britain's best pigs will help sustain the largest pig population in the world.
"And we're not stopping there, we're talking to the Chinese about serving up pigs trotters on Beijing's finest dining tables. That would be a real win-win – a multimillion pound boost for Britain and a gastronomic treat for Chinese diners."
The exports start in the first quarter of next year. Four UK artificial insemination centres, based in England and Northern Ireland, will start making preparations for the exports in the new year.
Half of the world's pigs are in China but the country needs to improve pig genetics. A government source said: "China has an interest to increase the efficiency of their production, while minimising the environmental impact of increased production. The UK industry for pig production can play a large and important role in helping China achieve greater efficiency through the provision of high-quality genetic stock.
"UK porcine semen will be key to help the Chinese improve their pig production and make the industry more productive in the long term. The quantities are not the important factor for this trade; it is the quality that is important."
The Guardian
Title:
Thank God There's A Doctor In The House
Author:
kizzia
Beta:
azriona
Gift for:
ellieet
Rating:
PG-13
Status:
WIP - Chapter 4 of 5.
Warnings, kinks and contents:
BAMF!John, Hurt/Comfort, Post Reichenbach reunion fic, Johnlock established relationship, John uses ALL his skills, Molly and Mrs Hudson remain calm, Greg, Mycroft and Sherlock do not! There is minor character death in here, along with a small amounts of blood and gore.
Disclaimer:
Don't own, don't claim, not making any profit.
Summary:
After three long years John
finally
gets some answers. And a lot more besides.
Author's Note:
This is a fill for a prompt that appeared on the
sherlockbbc
com Monday promptness way back in October last year. Said prompt can be read
here
.
The story is completely written and the final chapter, the epilogue, will be posted on 10-12-2013.
Start from the beginning on
LJ
, on
AO3
or on
FF.net
Read Chapter 4 - Of LIfe And Death - on
LJ
, on
AO3
or on
FF.net
The first report of Christmas tree shortages has arrived, with Fox News 44 reporting that tree crops in both Vermont and New Hampshire have been seriously compromised this year following an unexpected early heat wave in March and a summer of flash floods.
Though the young trees — some growing for a few years — had been able to withstand the warmer temperatures in late winter, they were unable to hold up to the subsequent flooding in the summer,
tree farmer Bob White told the station. "It probably took out as much as half the farm," he said. "You get used to 20, 30 years of how everything works, and now you don't know anymore."
This is the first year that localized extreme flooding has been said to cause a decrease in Christmas tree crop, and scientists have repeatedly linked increased unexpected flooding events caused by a warmer, moister climate to man-made global warming. But this year is not the first where the holiday staple has been put in danger by climate change.
In 2012, drought and heat in Wisconsin and Michigan caused the loss of about 4,000 young trees — about half of their new crop. One Illinois farmer called that year's loss of young trees the worst he'd seen in 55 years, with almost all of the several thousand trees he planted in the last two years dead from lack of water.

Most farmers said the death of trees wouldn't reflect in Christmas tree prices this year, but the loss had left some farmers saying they wouldn't replant. So even though the full-grown trees are still widely available, the crop set to be fully matured six to 10 years from now might be at risk.
The news is not the best for the holiday season, according to Saint Joseph's University plant biologist Clint Springer. Springer wrote last year that buying a real Christmas tree is highly preferable to buying an artificial tree in terms of contributions to climate change.
"Choosing a real Christmas tree is one way that an average person can make a difference in terms of climate change," Springer said. "A 7-foot cut tree's impact on climate is 60 percent less than a 7-foot artificial tree used for six years. So while cut trees are not carbon-neutral, in terms of carbon-use, they are better than artificial trees."

Christmas tree plots also act like natural sponges for soaking up atmospheric carbon, according to a report in Mother Jones. The soil absorbs around 10 times as much carbon as the wood itself.
source: Think Progress has more links
As the number of homeless people in Los Angeles County continues to rise, the City Council is weighing a ban on feeding homeless people in public areas.
City Council members Tom LaBonge and Mitch O'Farrell, both Democrats, introduced the resolution after complaints from Los Angeles residents. Arguing that meal lines should be moved indoors, the legislators said the proposal would benefit both the homeless and residential neighborhoods.
Actor Alexander Polinsky is one Los Angeles resident who complained about the number of homeless people crowding his neighborhood.
"If you give out free food on the street with no other services to deal with the collateral damage, you get hundreds of people beginning to squat," Polinsky toldThe New York Times. "They are living in my bushes and they are living in my next door neighbor's crawl spaces. We have a neighborhood which now seems like a mental ward."
"This has overwhelmed what is a residential neighborhood," Council member LaBonge said. "When dinner is served, everybody comes and it's kind of a free-for-all."
(
Read more.
Collapse
)
Source + poll
My class was discussing how over 50 cities had similar/worse bans to get rid of homeless people so I went searching to see if something like this in LA was happening and found this. It's always been clear that politicians don't give a shit about homeless people and now they want homeless people to be away from the public eye. Where are they supposed to go and what is that even supposed to do? Magically erase homelessness? Just no.
Three White College Students File Racial Discrimination Complaint Against Professor over Lesson On Structural Racism
A black female professor at Minneapolis Community and Technical College was formally reprimanded by school officials after three of her white male students were upset by a lesson she taught on structural racism.
Shannon Gibney says that the students reacted in a hostile manner to the lesson in her Introduction to Mass Communication class, with one of them asking her, "Why do we have to talk about this in every class? Why do we have to talk about this?"
"His whole demeanor was very defensive. He was taking it personally. I tried to explain, of course, in a reasonable manner — as reasonable as I could given the fact that I was being interrupted and put on the spot in the middle of class — that this is unfortunately the context of 21st century America," she explained in an interview with City College News.
Gibney says that, after this initial comment, another white male student said, "Yeah, I don't get this either. It's like people are trying to say that white men are always the villains, the bad guys. Why do we have to say this?" These students continued to argue and disrupt the lesson until Gibney told them that if they were troubled by her handling of the subject, they could file an official complaint with the school's legal affairs department.
The students then filed a complaint, and Gibney was formally reprimanded by the school's vice president of academic affairs for creating a "hostile learning environment" for trying to educate her students about the existence and operations of structural racism.
Based on this and other actions by the school administration, Gibney and six other professors are filing a federal class action lawsuit against the college alleging that it is a discriminatory workplace.
Source
has a full video of the interview with Professor Gibney.
"Swiss guards confirmed that the pope has ventured out at night, dressed as a regular priest, to meet with homeless men and women," writes The Huffington Post.
The report hinted that Pope Francis had sneaked out of the enclave with Archbishop Konrad Krajewski. As Almoner of His Holiness, Krajewski is the Vatican's point person on giving charity to the poor and visits the destitute nightly.
This isn't the first time Pope Francis has earned attention and praise for his predilection to serve the needy. Just months after assuming the papacy, he invited nearly 200 homeless people to join him for dinner at the Vatican. He also deplored the plight of homeless people in the first apostolic exhortation of his papacy last week: "How can it be that it is not a news item when an elderly homeless person dies of exposure, but it is news when the stock market loses two points?"

Over the years, the Catholic Church has grown too "obsessed" with abortion, contraception, and gay marriage, Pope Francis argued in May, imploring followers instead to focus on combating trickle-down economics and the world of inequality it produces.

Pope Francis has also taken a more modest personal approach than his predecessor Pope Benedict XVI, shedding gold-embroidered robes and an ornate golden throne for white threads and a wooden chair.
These pronouncements and actions have earned him the nickname "Pope of the Poor," a fitting tribute to a man who assumed the name of Francis after the 13th century Saint who focused attention on the poor.
Of course, Pope Francis's outreach to the homeless is also putting into practice what the Bible teaches about treating those less fortunate in society. Most famously is Matthew 25:40, where Jesus taught followers, "Truly I tell you, whatever you did for one of the least of these brothers and sisters of mine, you did for me."
Most interesting, however, is the Pope's decision to serve the homeless without fanfare. A press release from the Vatican about Pope Francis' meetings with the homeless would have undoubtedly earned him media praise, but the fact that he chose to sneak out undercover suggests a more humble approach. Perhaps he was following the teachings of Matthew 6:2: "When you give to the needy, do not announce it with trumpets, as the hypocrites do in the synagogues and on the streets, to be honored by others." Instead, give discreetly, "Then your Father, who sees what is done in secret, will reward you."
Source:
http://thinkprogress.org/economy/2013/12/03/3011421/pope-francis-homeless/
And now for your daily dose of positive news. Seriously, the more I hear about Pope Francis, the more I am impressed with him. A Christian leader actually acting as Christ would have? Bring more of that on. Little surprise the Christian Right hates him.
The leader of the Catholic Church has been quietly sneaking out of the Vatican at night to minister to homeless residents, according to a new report.
Their parents had to pay $200 to bail them out. According to Rochester's WHEC, "Police say they were blocking the sidewalk and the entrance to a store and they say they told the teens to leave several times. But according to the officer, the teens did not move from the area. The three teens were then placed under arrest."
"We tried to tell them that we were waiting for the bus," says Weathers. "We weren't catching a city bus, we were catching a yellow bus. He didn't care. He arrested us anyways."

The kids' coach, Jacob Scott, who is also a guidance counselor, tried to defuse the situation and was told by police that if he didn't disperse he would be arrested too.
"[The officer] goes on to say, 'If you don't disperse, you're going to get booked as well,'" Scott told Rochester Homepage. "I said, 'Sir, I'm the adult. I'm their varsity basketball coach. How can you book me? What am I doing wrong? Matter of fact, what are these guys doing wrong?'"
The sergeant arrived, whom Scott hoped would help, but he was told to get out of the street or he was going to go "downtown."
(
Read more...
Collapse
)
Source
has a video interview with the coach.
When they did not leave, Raliek Redd, 16, Deaquon Carelock, 16, and Wan'tauhjs Weathers, 17, students at Edison Tech High School, were arrested.