KeithOlbermann
Per Reuters: FEDERAL DISTRICT COURT JUDGE RULES CALIFORNIA GAY MARRIAGE BAN UNCONSTITUTIONAL - COURT DOCUMENTS
SUCK IT NOM! LOVE WINS!
Party post!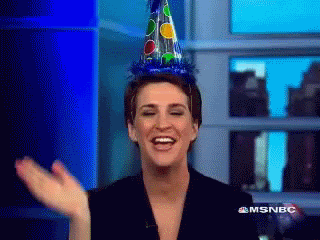 @
I had an interview at Tesco on Thursday for a night shift job and I was pretty down that they hadn't called back because I was convinced I'd been successful. I was right. I'm so happy now, the depleting funds in my bank account were beginning to terrify me, now I'll be able to push the funds up a bit and maybe have some extra for a bit of a wilder time at the festival! It's just shelf stacking but it's a well paying job (£7.50 an hour after midnight) and snce I barely sleep these days it works to my advantage. The best bit is they leave the job available for you if you want to go back to it next year! So if my sketchy dreams to work in America next Summer fail, I have a back up plan. I just need to call them tonight and sort out some details. Hurray for employment!

In more exciting fangirl news, I'm finally contributing to fandom for the first time in ages. Yay to fakenews_fanfic and the demented OT's for inspiration. I'm surprised I got as many comments for one story as I did - bringing love to the obscure pairings has it's perks. I also contributed to the pundit kink meme but not telling you which one is mine. That would defeat the purpose of anonymous porn!

I'll leave you with some US Whose Line, one of my favourite games! Enjoy!


Yay!
Current Location:

Blairgowrie

Current Mood:

ecstatic

Current Music:

Zero to Hero - Hercules
I PASSED GAELIC!

I achieved the fucking impossible!

*scream*

I got an e-mail from my tutor telling me I passed 51% (pass mark was 40%) so I don't have to resit! I know exactly what I want to do now and I'm so glad I don't need to worry about those frakking tests now! I did get a little too excited and screamed - my dad thought I'd hit my foot on the door again. Now I can concentrate fully on more important matters - like London!

I PASSED!!!!!
I passed Gaelic!
Current Location:

Blairgowrie

Current Mood:

ecstatic

Current Music:

Supermassive Black Hole - Muse
I got a lovely big parcel today (post on a Sunday? Strange...) from Liz. You are a complete star! It's a gorgeous picture, I love it so much, thank you! And the book as well, can't wait to read it (have to wait until after exams, sadly.)! Thank you a million times, I really love it. *Hugs* It made my day.


Mark Gatiss walked out wearing a grey suit, blue shirt and very colourful stripy socks. He had a strangely striking beard too and smiled a lot. He walked up to his seat, where a podium had been placed in front row, and said "My fellow Americans..." Before sitting down. A woman from a newspaper (forgot which one) interviewed him about his book, Black Butterfly (read it, but not until you've read the first two in the series) and they also talked about his work with the League of Gentlemen and his writing and acting on Doctor Who. He was a very funny speaker, always shuffling about in his seat and laughing. I wish I could remember everything he said so I'll jot down as much as I can recall now.

He talked about the writing process and how it differs from writing for the stage, screen and page, as well as the differences between working in a group and writing yourself. He said that working with the other 3 members of the League was often like working in a "jerk circle." That got a very loud laugh and had the interviewer cringing a little. He mentioned his influences on his writing, how much he likes Edinburgh (good man), working with people he admired, the League of Gentlemen's Xmas episode (scary as hell!) and writer's block. My favourite moment came when an audience member asked him if he was the Doctor, who would he want as his companion. He said Cillian Murphy, but they probably wouldn't leave the Tardis that often. Gatiss and Murphy for the new series! It's always the charming, funny, intelligent guys that are gay! He also proudly proclaimed during the talk "I am a gay!" which made me smile, and how somebody bought him a robot hoover as a wedding present, which he wants to programme to sing Daisy Daisy. He does an excellent evil chair swivel too, as successfully demonstrated on his stationary leather chair.

My prime seating position also meant I got to be 3rd in line to get my book signed. I hope he didn't think I was creepy for grinning like a loon when I handed my book over. It's signed "To Kayleigh, Love and Boy Scouts, Mark Gatiss. X" That's a reference to something in the book, not a perverted suggestion, honest! Pictures to come soon hopefully. It was a great night and I bounced out of that shop with a real spring in my step, only for it to be spoiled by tomorrow's test revision! Damn...
Woo, what a great night! I'm still grinning from ear to ear. Today was the book signing so, as soon as ethnology ended at 5, I sped down the road to the east end of Princes Street (taking the shortcut past the art gallery) to Waterstones as fast as the crowds would let me move. I had my book and ticket in hand, afraid of losing them both. Luckily that was one hell of a shortcut and I got there with 40 minutes to spare. I got to pick a prime seat too, in the front row. It was a full signing and I was so excited when I saw him.
Current Location:

Edinburgh

Current Music:

The Village - James Newton Howard
Sadly the Freshers play ended tonight. But it didn't go out quietly. The freshers had quietly decided amongst ourselves that because it was our final night and we might never get to do any of this again, we'd mess everything up as much as we could get away with! The actors were allowed to add any jokes they wanted, any silly bits of acting and the occasional invasion by another group! I didn't see it but apparently the 1st part included stage invasion by remote controlled cars. I got to my setting up stage and the head stage manager told me that they had a bet with the head techie. If she could get 5 stagies on stage dressed as death without telling the actors, it was drinks all round. So my group's act included 5 hooded figured randomly sitting on the stage! What made it funnier was the actor's reactions. One actor in my group, playing Rafiki as a psychiatrist (read the script in the post somewhere below), saw the 5 and just looked so bewildered. We've been painting his face every night red and blue to try and make him baboon-like. But for some unknown reason, in a moment of spontaneous fun, we decided to paint a Union Jack on his face! So he changed his act to Rafiki pretending to be a cockney, a moment of inspired genius! I nearly died laughing tonight. Such moments of hilarity included one actress screaming out "Jeremy Clarkson!" during a sex sound scene, people forgetting their lines from laughingf so much, self referential additions to the script and our Rafiki invading another group's performance to lead the crowd in a performance of "God Save The Queen." The techies were not pleased at everyone messing up the very well prepared tech but we didn't care. I miss it already. I don't know what I'm going to do with my nights now although some sleep would be wonderful.

After the show was the Bedlam party and I enjoyed myself more than I thought I would. I had one glass of wine and that was fine for me. Everyone was fun and happy without going overboard and we all just danced and hugged each other. It's amazing how, as the evening progresses, the worse the music choice gets. Apparently drunk or tipsy people can only dance to the most cheesy of songs, such as Come On Eileen, Reach, and that great Scottish lament, 500 Miles. Some of the songs were a real blast from the past, like 5ive. Remember them?! Last night didn't feel right to me, but this did. We all worked so hard and deserved a big well done. But I've now got a cold and it's sort of spoiling the post show buzz.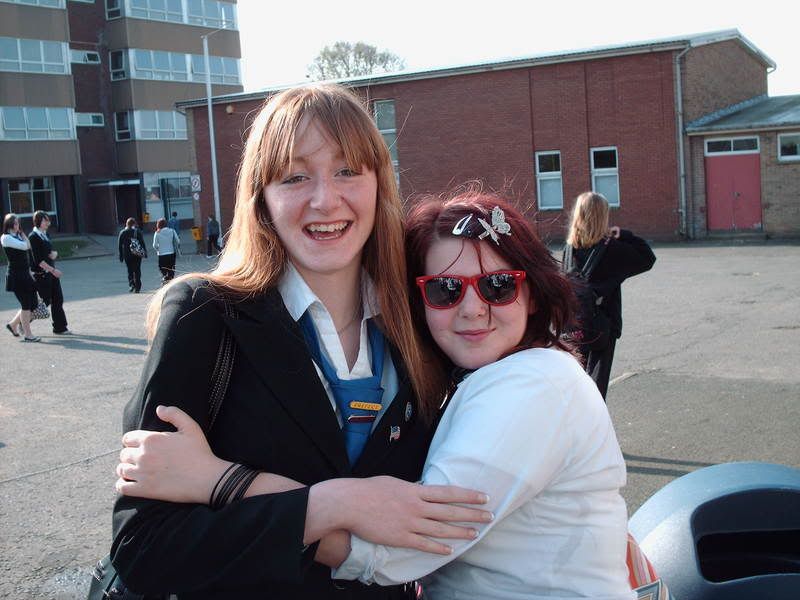 Pamela and my sister.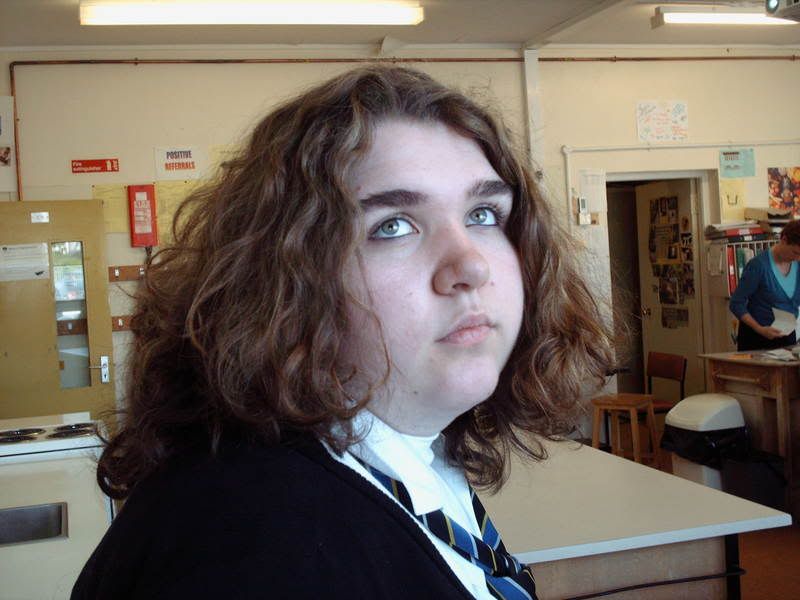 Petsa.
I had a pleasant day with my 2 lovely friends Petsa and Pamela in town today. It was sort of our first proper meeting together since the prom. I can't believe how mature and sensible Pam looked! She's started training with British Airways to be an air hostess, or trolley dolly as I've christened her. She had on the full uniform today since she's flying out tonight again. I don't know how anybody can walk sensibly in a heel higher than three inches but she's always done it in a classy manner! Petsa is hopefully going to apply for Edinburgh next year (to be near me!) but in order to do that, we needed to go back to the urine soaked hell-hole I vowed never to return to so we could discuss the small matter of appeals. I must admit I wanted to spit on the office worker's face. She was so snide to us! We asked for visitors badges so we could visit our old teachers and she gave us the one-two interrogation! Witch! Sadly it felt like I'd never left the place. I was walking down the old science corridor and wondered for a second why I wasn't wearing my tie! My concept ad understanding of time has been effed up since I left school. It was nice to see my old teachers though, especially those who treated us well during our school times. I hope that they realise how good they are at their jobs. Afterwards we went for lunch and a drink so we could have a good bitch. I'm gonna miss those two like mad when I leave home - three weeks to go!
Current Location:

home

Current Mood:

happy

Current Music:

Top Gear
"I wish you would stop going on about how vain I am. It's beginning to get really annoying. Where's my hairbrush?"
(Said by my very narcissistic sister in one breath.)

"Oh my god, you're my new best friend, can I have a hug?"
(My friend Laura proclaiming her love for a man dressed as a kangaroo.)

"Look at you, you're breathing fire through the youth of today, like a paedophile pterodactyl. You're just soaring through the air with your spangly almighty labial wings, waiting to snatch! Readers, lock up your daughters, bubble-wrap your sons. Hannah Montana has survived the ice age and she is approaching fast!"
(My cousin and fellow sketch show writer Jennifer when talking about Miley Cyrus. We laughed so much at it that we've added it to our show!)

"Not if you were the last man on earth and there were no batteries. Are there batteries?"
(I wish I could claim this as my own but alas it isn't. I found it on EmpireOnline forum.)

"Y'know. Brother Justin is pretty hot when he's crazy and tied up in a straitjacket."
(My sister commenting on Clancy Brown in Carnivale - the man who does the voice of Mr Krabs in Spongebob Squarepants! And she laughs about my weird crushes)

"If you take the Torchwood or Carnivale DVDs to uni with you, I'll hunt you down like a ned hunting for Buckfast!"
(Sister again, making sure the DVDs she likes stay in this town when I leave. I'm taking them both.)

"This is hitting a little close to home."
(My mum's friend Lesley getting a bit worried by the similarities between her and Julie Walters' character in Mamma Mia.)

"I wish I could hurt Daniel Radcliffe in the eyes so he could wear glasses all the time."
(My friend Petsa wanting Radcliffe to remain in Harry Potter mode forever.)
Current Location:

home

Current Mood:

crazy

Current Music:

Are You Afraid of the Dark?
Current Location:

home

Current Mood:

creative

Current Music:

Are You Afraid of the Dark?